Grace Company
Grace Qnique 19 - The New Long-Arm Quilting Machine Free Bundle In The Month Of March
Regular price
$ 6,799.00
$ 0.00
Unit price
per
This month, quilters get a free accessory bundle when they buy a Q'nique 19 machine. This bundle comes with:
A Q'nique 19 Machine Ruler Base
Hopping Foot Kit(Ruler Foot, Micro-Stipling Foot,
Open Toe Foot)
Three Leah Day Ruler Templates (Slice, Mini Slide, Super Slide)
10 piece Bobbin pack
10 pack MR Quilting Machine Needles
BEST OF BOTH WORLDS
The Q'nique 19 opens the door for quilters who desire the features and reach of a professional longarm, without losing the feel and comfort of their own domestic shortarm machine.
WHERE DOMESTIC COMFORT MEETS PROFESSIONAL FEATURES
Domestic Feel
Light feel, easy to move
User-friendly controls
Slim and approachable
Fine stitching control
Professional Features
Built-in stitch regulation
Full-color touchscreen
Adjustable handles
Large 19" throat-space
Controllable LED light
Up to 2000 Stitches per minute
ENHANCED STITCHING QUALITY
Superior motor and stitch quality with the Q'nique 19
Get beautiful stitching with the Q'nique 19.
The Q'nique 19's powerful motor provides you with faster, more detailed stitching of your quilts.
The 19 features an enhanced motor capable of stitching at 2,000 stitches-per-minute.
Built-in stitch regulation keeps your beautiful stitches consistently the same length. As you speed up or slow down in your movements, the machine will speed up and slow down its stitching speed, so you won't have to worry about some stitches being longer or shorter than others.
FULL-COLOR TOUCH SCREEN 
All the professional features at your fingertips
With the touch of a finger, you can navigate the user-friendly menus and adjust settings on a bright, full-colored OLED screen.
Adjustable, Locking Screen
Tilt the screen to the most comfortable position for your wrist and then lock it in place.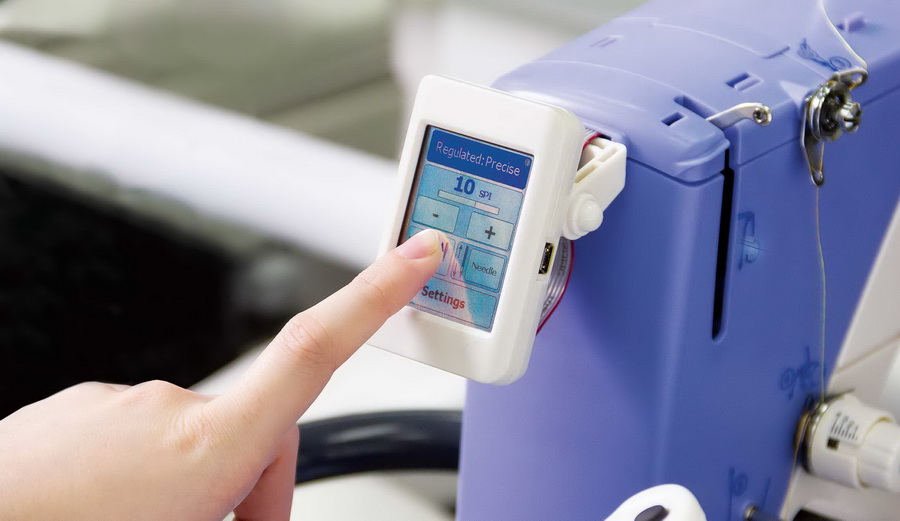 MICRO HANDLES & HANDLE POSITION
Adjustable handles for the most comfort and control. When you need ultra-fine control, handles twist down to accommodate your needs.
QUICK-ACCESS BUTTONS & EXTENDABLE
 Easily do what you need to with the controls you know. Lengthen handle distance for comfort and control.

EXPAND YOUR REACH!
Larger throat space for larger quilt blocks and patterns.


OTHER FEATURES
EASY–ACCESS BOBBIN
Bobbin changing does not get any better than this
The bobbin of the Q'nique quilting machine has been designed for easy and quick access. Changing or checking on your bobbin is now more user–friendly than ever.
BUILT–IN BOBBIN WINDER
 Quick and easy bobbin refills
The included bobbin winder on the Q'nique Quilter runs its own separate, built–in motor, so you can refill bobbins without having to run the sewing machine.
QUICK–ACCESS CONTROLS
All the sewing power, right at your fingertips
We designed the control of the quilting machine to be as quilter–friendly as possible. All major functions and settings can be controlled right from the handles and seen on the display.
LARGE M–CLASS BOBBIN
So you can keep on quilting, and quilting, and quilting...
The Q'nique Quilter comes standard with a large class M Bobbin. This lets you quilter for longer periods of time before needing to change or refill your bobbin.
SPECIFICATIONS
OVERALL MEASUREMENTS
EXTENDED WORK AREA
---